Epoxy flooring has been around for years but homeowners are just recently starting to learn about the numerous benefits they provide. The materials and installation costs are relatively low, so you won't break the bank. They are also stained and puncture-resistant, very low maintenance, and can add loads of personality. Your home, garage, or commercial space can look just the way you want. Epoxy floors can be customized to fit any design or look you can imagine. So, let's take a look at some of the top epoxy flooring trends of 2021. 
2021 Epoxy Flooring Trends
One of the most popular epoxy options right now is metallic epoxy. Metallic epoxy coatings are treated with pearlescent metallic pigment, leaving a polished and gleaming look. The sky-is-the-limit with metallic epoxy and no two floors turn out the same. This is a type of 3D epoxy floor coating that creates the illusion of a metal floor with dimension and luster. You can customize your preferred color and design to add life to your floors both inside your home or shop. 
Many homeowners love the retro design of interlocking floor tiles for their garage, shop, or even kitchen floors. Black and white tiles have always been a favorite but there is no need to stick with tradition when there are numerous tile color combinations to pick from. Red and black, navy and white, black and orange are each fun and creative combos that will add a punch of color and style to your space.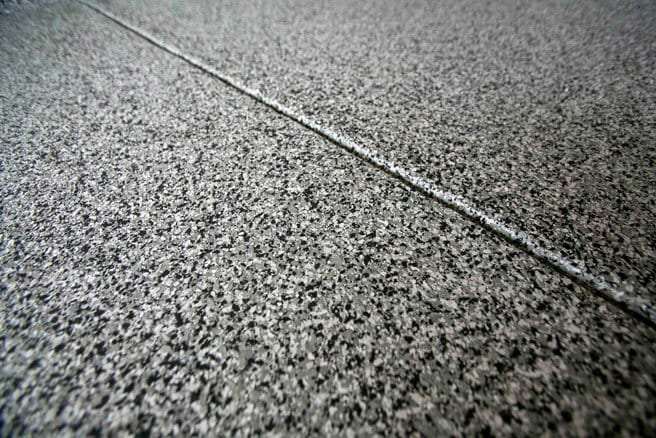 You can never go wrong with neutral or earthy tones in your decorating. One main benefit is that these gray, tan, brown, and khaki tones are classic and will never go out of style. They are also likely to coordinate well with any color of car you own now or will own in the future. 
Flooring that imitates the natural look of wood or stone is becoming increasingly popular this year. Rather than deal with real wood planks or stones making up your home's flooring, why not go for a unique and flowing option that is less expensive in labor and materials? You can imitate the grain of a large redwood or the elegant look of marble. You have endless possibilities to explore when it comes to epoxy flooring.
Conclusion 
If you are someone who has been contemplating investing in epoxy flooring but want to know more specifics, then give the experts at Epoxy Floor Pros a call or click here to get your free estimate. We have installed hundreds of epoxy floors and are up-to-date on all the latest style options and trends. We will answer all your questions and can make your dream of epoxy flooring become a reality.